UK, ITV (Watchmaker Productions for Carlton), Standup, colour, 1996

Starring: Spike Milligan

24 Feb 1996, Sat 9pm - 1 hour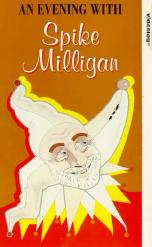 Carlton chose Milligan to kick-off its An Evening With show (virtually a replica of LWT's long-running An Audience With....

A studio packed with celebrities - Sir Harry Secombe was among them - was delightfully entertained by Spike's reminiscences, poetry and song.

Spike recalls his army career and entertains the audience with poetry and a love song. He also answers questions from Sir Harry Secombe, Peter O`Toole, Roy Hudd, Lynsey De Paul, Denis Norden and others.