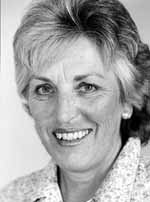 Diana Griffiths

Like many young New Zealanders, Diana Griffiths was keen to explore the world in her early 20s. As soon as she completed her nursing training, she and two fellow-nurses set sail to Europe on an Italian cruise ship.

From Italy they travelled by train to London, where Diana joined a nanny agency.

She quickly landed a job looking after twins in Surrey. When she finished the job the generous family lent her their VW car to drive around Europe with her friends.

Travelling around Europe left Diana short of cash, so on her return to England she went back to the agency. They lined up plenty of interviews, including one with a Mrs Milligan.

"After the interview the agency said, `You realise that was Mrs Spike Milligan ?'"

Diana had no idea that the woman laid up in bed with her leg in plaster at the interview was Spike Milligan's second wife, Paddy.

But she must have made a good impression because a few days before the Milligans' baby was born, Diana moved into their Kensington home.

The house wasn't large but had a big garden (Spike's domain) and a swimming pool, which was quite unusual for the area.

Most of Diana's time was spent looking after the baby, Jane, but she also had some responsibility for Spike's other children Laura, 12, Sean, 9, and Sile, 8.

"They were lovely kids, it was quite difficult for them because they were in the public eye so much."

Spike and Paddy were out a lot, often at Spike's show at the time, Son of Oblomov.

"I found it quite hard to be a substitute parent, but I guess that's showbiz," Diana says.

Spike, who later wrote a book about depression, was going through one of his depressed stages while Diana was there, so she didn't see a lot of him.

When he was depressed he would shut himself in his room and Paddy would leave meals outside the door for him.

"He didn't let it (depression) affect other people. Sometimes they can get quite violent, I can't recall him ever acting in that way."

Diana has happier memories of the comedian. He was wonderful with the children, making up stories for them and taking them on adventures around the garden (which even had squirrels in it).

Spike was "neurotic" about his garden. Diana remembers him spending hours watering everything in sight. While she was staying, he also carved a totem pole in the park nearby.

"I just remember him being a charming, pleasant, interesting sort of person," she said.

In one of the downstairs rooms, Spike kept a sort of museum.

"It was a collection of oddments, a lot of Spike's army memorabilia, stuffed animal heads and mirrors. Most people would call it junk but I imagine it had some sort of sentimental value."

One day, Diana whipped up a Kiwi treat for the Milligans, a pavlova.

They'd never tasted pavlova before, but liked it so much they asked her to make four for Jane's christening party.

There were celebrities galore at the party, including some of the other Goon show stars, but Diana didn't take much notice of them.

Thanks to Spike's introduction, plenty of partygoers took notice of her.

"As I walked in, Spike said `This is Diana from New Zealand and she knows nothing about the All Blacks.' And I didn't!"

Paddy, who was formerly Patricia Ridgeway of the circus family, once told Diana about the time she and Spike were invited to Buckingham Palace.

"Paddy sat on the hearthrug talking to the Queen about their children while the Duke and Spike exchanged army jokes."

Diana only spent a month with the Milligans but says it was quite an experience living in their home.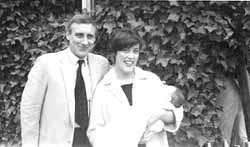 Diana's picture of Spike and Paddy Milligan with their daughter Jane. Diana took the picture of Jane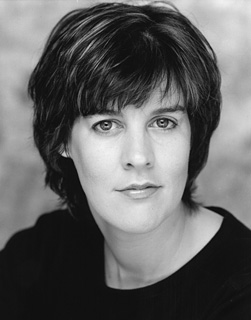 Jane pictured recently - bearing a striking resemblance to her mother.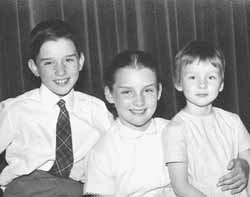 Sean, left, Laura and Sile Milligan, pictured at the time Diana looked after them.