Listen to My Nanny - Read by Spike
Listen to MacDrown - Read by Spike
Listen to Knees - Sung by Spike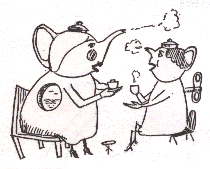 On the Ning Nang Nong


On the Ning Nang Nong
Where the Cows go Bong!
and the monkeys all say BOO!
There's a Nong Nang Ning
Where the trees go Ping!
And the tea pots jibber jabber joo.
On the Nong Ning Nang
All the mice go Clang
And you just can't catch 'em when they do!
So its Ning Nang Nong
Cows go Bong!
Nong Nang Ning
Trees go ping
Nong Ning Nang
The mice go Clang
What a noisy place to belong
is the Ning Nang Ning Nang Nong!!

Spike Milligan


Bazonka

Say Bazonka every day
That's what my grandma used to say
It keeps at bay the Asian Flu'
And both your elbows free from glue.
So say Bazonka every day
(That's what my grandma used to say)
Don't say it if your socks are dry!
Or when the sun is in your eye!
Never say it in the dark
(The word you see emits a spark)
Only say it in the day
(That's what my grandma used to say)
Young Tiny Tim took her advice
He said it once, he said it twice
he said it till the day he died
And even after that he tried
To say Bazonka! every day
Just like my grandma used to say.
Now folks around declare it's true
That every night at half past two
If you'll stand upon your head
And shout Bazonka! from your bed
You'll hear the word as clear as day
Just like my grandma used to say!

Spike Milligan

Bump

Things that go 'bump' in the night
Should not really give one a fright.
It's the hole in each ear
That lets in the fear,
That, and the absence of light!

Spike Milligan

Contagion

Elephants are contagious!
Be careful how you tread.
An Elephant that's been trodden on
Should be confined to bed!

Leopards are contagious too.
Be careful tiny tots.
They don't give you a temperature
But lots and lots - of spots.

The Herring is a lucky fish
From all disease inured.
Should he be ill when caught at sea;
Immediately - he's cured!

Spike Milligan

Mirror, Mirror

A young spring-tender girl
combed her joyous hair
'You are very ugly' said the mirror.
But,
on her lips hung
a smile of dove-secret loveliness,
for only that morning had not
the blind boy said,
'You are beautiful'?

Spike Milligan

Down The Stream The Swans All Glide.

Down the stream the swans all glide;
It's quite the cheapest way to ride.
Their legs get wet,
Their tummies wetter:
I think after all
The bus is better.

Spike Milligan

I must go down to the sea again, to the lonely sea and the sky;
I left my shoes and socks there - I wonder if they're dry?
Spike Milligan