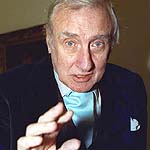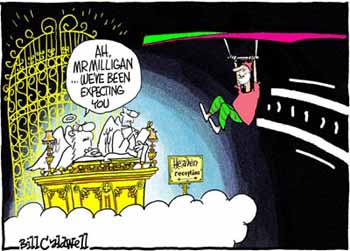 Tributes



Charles leads Milligan tributes

Milligan: A household name since the 1950s

Prince Charles has joined showbusiness celebrities in paying tributes to actor and comic Spike Milligan, who has died at his home in Sussex, at the age of 83.

Prince Charles, one of his ardent fans, said he was "deeply saddened" by his death.

Milligan was one of Britain's most respected performers and was known to millions as one of the founding members of The Goons.

He was a great man - a crazy, wonderful genius

Comedian Eddie Izzard

Together with Peter Sellers, Michael Bentine and Harry Secombe, the quartet helped redefine comedy programmes for a generation.

Milligan had been the last surviving member of the quartet.

Prince Charles said: "It was an immense sadness to learn of Spike Milligan's death and my heart goes out to all his family.

"Personally, but along with so many others, I shall miss his irreverent and hysterical presence and can only say that the world really will be the poorer for his departure."

Prince Charles met the Goons in 1974

Milligan's agent said he died surrounded by his family.

He is believed to have died from liver failure and had suffered ill-health for sometime.

In recent months had been nursed by his third wife Shelagh.

Comedian Stephen Fry paid tribute to his talent: "Spike was entirely his own mad Irish self. He came out of nowhere.

"If there is a definition of genius it is that whatever province you are in, you leave it different. He left comedy different and it was never the same after him."

He took comedy into the world of fantasy; it was surreal and different and amazing

Nicholas Parsons

Blessed with a sharp wit and sly comic tongue his later career encompassed television, films and novel writing, poetry and children's books.

Fry described his writings as "absolutely immortal".

He was a major influence on British comedy, taking music hall ideas and weaving into them his own sketches.

His fascination with language and the surreal qualities of everyday life broke new ground in humour and was reflected in both his sketches and popular children's books.

Friend and broadcaster Nicholas Parsons told BBC News 24: "There will never be another Spike. He broke the mould of comedy.

"He took comedy into the world of fantasy; it was surreal and different and amazing. He created a whole new attitude to humour."

Milligan appeared in the BBC drama Gormenghast

BBC director general Greg Dyke said: "Spike Milligan was a comic genius. As the writing brains behind the Goon Show he was the founder of modern comedy."

Comedian Eddie Izzard described him as the "godfather of alternative comedy".

He said: "He was a great man. He was a crazy, wonderful genius."

Broadcaster Michael Parkinson said Milligan was "indisputably the most important in British comedy over the last 50 years".

The BBC's head of comedy, Jon Plowman, added: "It is very sad. He was one of the true greats whose influence can be seen in a huge amount of comedy that we do today."

The Goon Show was first broadcast on 28 May 1951.

Milligan is said to have picked the word goon out of a Popeye comic and started using it as derogatory term for people he saw as idiots.

The Goons redefined British comedy

Milligan was credited with writing the majority of the Goon scripts but during series three he suffered a breakdown and had to miss 12 episodes.

He received an honorary knighthood from Prince Charles last year - Milligan held an Irish passport - despite making fun of him during a live television show in 1994 by calling him "grovelling".

He later sent a fax to the prince saying: "I suppose a knighthood is out of the question now?"

Plagued with mental illness and manic depression during his life, he suffered no fewer than ten breakdowns, linked to shell shock he endured during the war.

He went on to star in the Q series of television shows and also wrote several books, including Adolf Hitler, My Part In His Downfall.

------------------------------------------------------------

From the news.

Comedy's "great grandfather" dead at 83

Prince Charles has lined up with Britain's stage royalty to pay tribute to the "hysterical and irreverent" madcap comic Spike Milligan, who died on February 27.

Fans, including actors John Cleese and Robin Williams, agreed Milligan, who died from kidney failure at the age of 83, was a unique talent who teetered on the edge of insanity.

The comic's life had been plagued with mental illness and manic depression and he suffered no fewer than 10 breakdowns. He had also been in ill health for some time.

Together with Peter Sellers, Michael Bentine and Harry Secombe, the quartet, now all dead, helped redefine comedy programs for a generation post-1950.

British wit Stephen Fry, himself no stranger to breakdowns, called Milligan "the great grand-daddy of post-war British comedy. He allowed the British to be silly".

Prince Charles, whom Milligan once jokingly called "a grovelling little bastard", was his biggest fan.

"It is hard to see Spike's parting as anything other than the end of a great era of British comedy, exemplified by Spike's extraordinary genius for the play on words and for the art of the nonsensical unexpected," he said.

Terence Alan Milligan was born in India on April 16, 1918 and moved with his family to Britain aged 16.

Of Irish descent, he refused to take the oath of allegiance which stood between him and a British passport.

That refusal meant an award of a knighthood from Prince Charles last year could only be honourary.

Monty Python star John Cleese says Milligan's Goon Show provided "the first flicker of rebelliousness that turned into the satire movement. He nudged us forward to be even crazier than we were intending to be".

Fellow Python Michael Palin says Milligan's Q sketch show was a great inspiration and Hollywood comic Robin Williams described the Goons as "pure madness".

"His unique style of writing made him an idolised character all over the world," said Beatles' producer George Martin, calling Milligan the "last and greatest of the Goons".

"Who knows? Without him we may not have enjoyed the later genius of Peter Cook...or the Monty Pythons."

Milligan's craziness was as infectious as it was inspiring. "Everything he touched he made Milliganesque," Fry said.

His bizarre style was one of a kind and his speech was peppered with absurdist quips.

"I love breaking cliches. People hang on to cliches. The cliche is the handrail of the crippled mind," he told singer Van Morrison in 1989.

A devout vegetarian, he liked to regard himself as a misanthrope and once said that most people bored him to death.

He was also a life-long campaigner against abortion, vivisection, factory farming, and even what he termed "needless noise".

In 1986, he was thrown out of London's prestigious Harrods department store when he tried to stuff 12.7 kilograms of spaghetti down the mouth of the food hall manager.

"I told him it might give him some idea of how a goose feels being force-fed maize to make pate de fois gras," he later said.

His home was littered with "No Smoking" signs, and a notice on the large front door read: "This door can be closed without slamming it. Try it and see how clever you are."

British chatshow host Michael Parkinson, who found it nerve-racking to interview the mercurial Milligan, said: "People assumed he was God's gift to talk shows, but he wasn't. He could veer from being absolutely obnoxious to being wonderful, depending on the mood you found him in. But he was a very gentle and nice man."

In a BBC poll he was voted funniest person of the last 1,000 years ahead of Cleese, Billy Connolly and Charlie Chaplin.

The baffling anarchy of his nonsense poetry endeared him to British readers, who picked his verse "On The Ning Nang Nong" as the nation's favourite poem.

He was also a prolific, highly respected comic author, bringing out titles such as "Adolf Hitler: My part in his downfall", about his war-time service.

And black humour abounded at every turn. Asked what epitaph he wanted on his grave, Milligan said: "I told you I was ill".

-------------------------------------------------------------

SPIKE MILLIGAN (article first published : 2002-03-12)

Today I feel sad at the news, but so lucky to have counted as a friend this master of anarchic humour. At the age of eighty three, he has finally made his exit.

I toured South Africa with Spike the first time he came here. Working on stage with him was the best therapy I have ever experienced in my life.

But it wasn't just the laughter with which he paralysed those on stage with him and his audiences alike. It was the reckless and relentless energy with which he dissected humankind, laying bare hypocrisy, pomposity, cruelty, clichés, posturing, and all other silliness he saw in the world.

When I first met him Spike was like a six foot leprechaun in denim cap, shirt and jeans.

He was 60 years old, fit and athletic, hyperactive on stage, apparently unstructured, impulsive, chaotic, whimsical, tangential, irreverent.

Thirty-odd concerts countrywide, just Spike and Lionel Martin (pianist) and me. No two performances were ever the same. I was never, ever bored, even for a millisecond.

Swaddled in a convincing illusion of chaos and anarchy, he nightly dealt up a frothy dessert of satire, lampoon, and apparent madness which led audiences along the direct route to the absurdities he perceived in violence, war, sex, politics, pride and prejudice.

This consummate clown was a much more serious man than his performances let on. Among his life's passions were archeology and palaeontology, Rugby, Jazz, Trees, Whales, the environment, South African white wines, and Fish.

Prof. Phillip Tobias, after seeing the show at RAU, invited Spike the archeologist to come and look for prehistoric remains at Sterkfontein, where the two of them spent a happy morning carefully dusting rocks with small paintbrushes.

Spike was very knowledgeable, and this expedition was one of his happiest memories of South Africa.

He was often described as irascible, moody, melancholic and manic. Yet even during bouts of depression, by his own account, he would lock himself in his room at home, and send his wife telegrams to let her know what he wanted for supper.

Incredibly, Spike played his last Rugby match at the age of 78! A charity match in which he played in his customary position on the wing, and confessed to stepping into touch whenever he saw the opposing wing preparing to tackle him.

That is how he told it to us when we visited him a year ago at his home near Rye, close to the English Channel. His daily outlook was across meadow after meadow filled with sheep, and, just visible, the Mill like building which is the recording studio of Paul McCartney.

Paul and the remaining Beatles loved him, and sometimes even dropped by unannounced to bring him a gift or greetings.

On our last visit Dawn and I found him less frenetic than before, but just as lateral in his thinking and his humour, with the same intense blue-eyed gaze, and razor sharp repartee we had come to know in South Africa.

We went with Spike and his wife Shelagh to the local pub for lunch, where he regularly wore one or other of his collection of national rugby jerseys.

He told us that the only one he did not have in his wardrobe was a Springbok Jersey. We swapped memories of his South African tours, of mutual friends, and the already apparent decline of South African Rugby.

On our return home we got him a Springbok jersey from SAB, the sponsors, and sent it to him last year in care of visiting British comic Rainer Hersch.

Spike loved to play jazz trumpet. He was a familiar figure at Ronnie Scott's in Soho. He also spent much money and time fighting people who wanted to cut down very old trees, heightening awareness of the plight of the whale, and raising funds for battered women, and babies.

He was a frequent visitor to Londolozi, and loved the peace and quiet din of the African bush at night. He did not eat meat, and enjoyed Nederburg Riesling, even on stage, and especially chilled in a big red fire bucket full of ice.

He used to tell each audience that Mrs. Vorster had sent him the wine.

Then there was the night the promoter brought an accountant backstage to get Spike to sign some tax forms, at which point he fled backstage, ran up a 60 foot steel ladder into the pitch dark grid above the stage, and refused to come down.

I finally cajoled him to descend, and do the show, on the promise of a meal at Nelsons Eye where a Welsh rugby fanatic was the chef! They talked till 2.30. The accountant was not invited.

Anecdotes about touring with Spike will fill chapters of a book one day soon. We kept in touch and corresponded each Christmas, via a postal address which surely popped out of a Goon Show script: Spike and Shelagh's house is in Dumbwoman's Lane!

We send Shelagh our fondest love and sympathy at this time of her loss. Small consolation, but Spike is mourned and celebrated in the memories of his followers across the world.

I shall always treasure the "good times" we shared (Spike's favourite toast was "Good Times"). Thank you for the good times, Spike.

You will not be forgotten. You made other people happy, and that is a rare form of generosity. As a result, you were much loved, and despite your own personal torment, earned your peace. Hamba Kahle, Spike.

DES LINDBERG (www.desdawn.co.za)